Hum Log | People & Stories of Chhoti Si Asha
Welcome to our team of creative minds, a diverse and talented group of local artisans, photographers, and designers who work closely with traditional crafts to create beautiful handicraft products. Our team is built on a foundation of collaboration, brainstorming, and open communication, and we are committed to bringing a unique mix of desi and modern design to our customers.
At the heart of our team is a passion for traditional crafts and the desire to preserve these techniques for future generations. Our team of skilled artisans brings a wealth of knowledge and expertise to the table, and we work closely with them to develop new and innovative designs that incorporate traditional techniques with modern styles.
Central to our team's success is our collaborative approach. We believe that by working together and sharing our ideas, we can create something truly special. Our team members come from a variety of backgrounds and bring a diverse range of skills and experiences to the table. We believe that this diversity is our strength and helps us to create truly unique and innovative products. We are proud to be a mix of desi and modern, and we believe that this fusion of traditional and contemporary styles is what sets us apart. Our team is always exploring new ideas and experimenting with different techniques to create beautiful and unique handicraft products that reflect our cultural heritage while also embracing modern design.
Liza
Liza has been an IT professional in her first avatar – working both in India and Silicon Valley with Fortune 500 companies including Johnson & Johnson and Siebel Systems. She and her husband quit their corporate jobs in 2005 and relocated from California to India to do things "closer to their heart". Chhoti Si Asha was incepted in 2006 and entitized in 2009 as a non-profit with the objective to build sustainable livelihoods for underprivileged women living in slum communities of Chandigarh.
Jatinder
Jatinder is an Assistant Professor at the Panjab University's department of Laws and also a passionate Co-Founder at CSA. Jatinder arrived in Chandigarh from Barnala in Punjab as a young student with satiable curiosity and has been working with CSA since the Non Profit was initiated as a hub for empowering migrant artisans and families. Jatinder has a passion for working in this sector and has played a pivotal role in the agencies coming of age. Jatinder is selfless, self effacing, hardworking, industrious person  who is loved and appreciated at the agency by the participants, stakeholders and fellow colleagues. Jatinder designs training programs for Interns, students doing fieldwork, manages projects and is at the helm of affairs.
Swaran Didi | Artisan
Swaran didi, with a smiling face she always keeps her team members and people around her joyful. She has the ability to empower other ladies who come to work at Chhoti Si Asha. She came all her way from Rajpura to settle here in Chandigarh when she started working with us. She picked up the craft of bag-making quickly. She is an extremely fast learner and is quite motivated. She also started a small team in her village Mohe. The members of the village make daris and do phulkari work.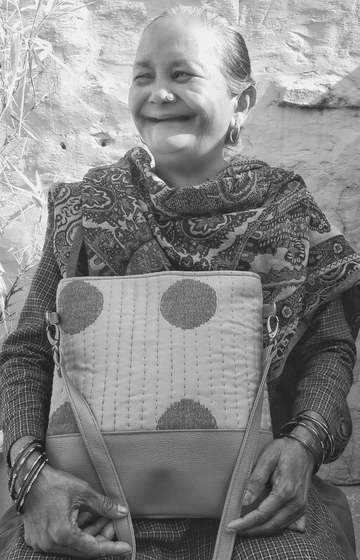 Jaswinder Aunty | Artisan
She might be the oldest here at Chhoti Si Asha but surely has the youngest heart. Her incredible sense of design, technicalities & curiosity is something which makes our products standout. Not only is she educated but is also vocal about her views on women empowerment. 
Fellow artists fondly call her "Dimag wali aunty".
Manju Didi | Artisan
Her big red bindi, a wrist full of colorful bangles, magical & unapologetic smile-a face & laugh you'll surely never miss. She is one of the oldest members of our CSA family and is known for her outspoken, vibrant & magnetic personality. Her sheer presence can light up the energy of the room. She is one brave woman and has a beautiful voice. Did we tell you she loves to sing folk songs?