Chhoti Si Asha is a small spark of hope, a hope that goes a long way.
Chhoti Si Asha celebrates Indian crafts, women artisans, and being desi at heart! At Chhoti Si Asha, we all share the same love of crafts & art. Every corner and person speaks of crafts passionately here. We're proud to be a women-led organization with a powerful mission to empower women by providing them with meaningful livelihood opportunities. We place a strong emphasis on nurturing and promoting the indigenous crafts of embroidery, crochet, weaving, and stitching — helping our talented women artisans become active contributors to the vibrant art community.
Our team of skilled artisans provides training and support to women who want to learn new skills or enhance their existing ones, and we provide them with the tools and materials necessary to produce high-quality crafts. We also work with them to develop marketable products that are relevant and appealing to modern consumers, while still maintaining the integrity of traditional techniques and designs.
Nurturing Capacity With Compassion
We strive to match these skilled women with local boutiques and brands in order to help them achieve the economic and artistic freedom they deserve. And true to our name, we've emerged as a safe space for our women to share their experiences and be heard.
Through generations, these artisans have honed their craft, passing down intricate techniques and intricate designs that tell stories of tradition, culture, and imagination.
Supporting these artisans means not only owning a remarkable piece but also embracing the spirit of craftsmanship and preserving a centuries-old tradition. Each stitch is a testament to the passion, dedication, and skill of these artisans, who pour their heart and soul into every creation.
जहां भी आज़ाद रूह की झलक पड़े, समझना वह मेरा घर है

- अमृता प्रीतम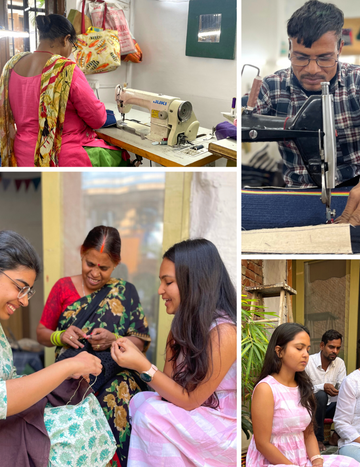 Our Workshop
Imagine the incredible energy of a room with a bunch of desi women on their sewing machines with a witty sense of humor, humility and some brilliant craftsmanship- that's our workshop.
We encourage a working environment where we all feel equal and never hesitate to give warm hugs, have endless brainstorming sessions with cups of chai and keep the mood bright & motivating. Our workshop in Chandigarh lets individuals come up with new design ideas, experiment and take new responsibilities. We make sure that each artisan and team member gets heard and has plenty of opportunities to let their creativity shine. If you're near our workshop or wish to meet our artisans, please book an appointment and we're sure to give you a fun experience, craft conversations over a steaming chai/coffee!
P.S: If you get to hear someone singing a folk song, please know we have some very interesting artisans at work. Do not hesitate to sing along :)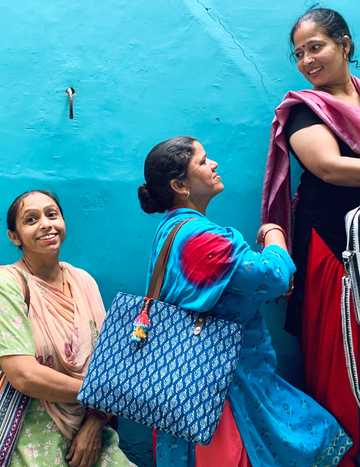 Fair Trade Principles
We wouldn't be here if it weren't for our skilled women artisans. 
We are proud to pay our workforce wages above market rates.
100% of profits earned from merchandise sales go towards growing programs and other community-building activities.
When you support us, you not only help our artisans build sustainable livelihoods, but also create a ripple effect of change. An important change – one that sees women as thriving members of society.
Our Community Programs
Empowering local communities through our various outreach initiatives and community programs is at the heart of our mission.
हर गली में जब शिक्षा लेकर आयेंगे, वहाँ सकारात्मक बदलाव आना निश्चय है
Project Badlaav - After-School Education Program | Ongoing
The Hindi word 'Badlaav' carries a significant meaning – 'to change.' And that's exactly what we're trying to achieve with our program. 
The objective of the program is to help our artisans' children make informed decisions and constructive choices so that they can carve out their future and follow their passions – a privilege we all deserve. We started the program in the neighbouring Janta Colony from where a lot of our women artisans come from, where the children don't get the quality education they deserve because of a lack of awareness and resources. Sadly, most adults in the colony too, are uneducated, it's no surprise that the children aren't able to make well-informed choices about their education. Project Badlaav offers a safe and engaging environment for the children from the village to learn at our workshop, events, media, and even occasional field trips. Resources like these can provide them with knowledge beyond what they learn in the classroom and help unlock their potential. Our trained mentor makes sure that we teach these kids logic, reading comprehension, and creativity as part of the program. Regular tutoring sessions are offered at the workshop in Hindi, English, and Mathematics. 
A classroom filled with young creative minds with a skilled mentor who not only teaches them the importance of academics but also encourages them to have a voice & to see a world full of possibilities! Let's bring the "Badlaav" together :)
Hamara Bank | Ongoing
In Hindi, Hamara Bank means 'our bank' – a way to foster community solidarity by lending small amounts of money to one another. We give our women the independence to run and manage this Self-Help-Group to provide emergency microcredit loans to people living in the Janta Colony and Khudda Lahora communities.
All major decisions are made by Hamara Bank's community of women –  including who gets the loan, how it's repaid, and how compliance is managed.
In doing so, together, women support one another's financial needs and aspirations. Monthly meetings are held to discuss loan-related issues. It's a common platform for women from different regions to come together and get to know each other better. CSA oversees the program's operations and overall management for greater transparency.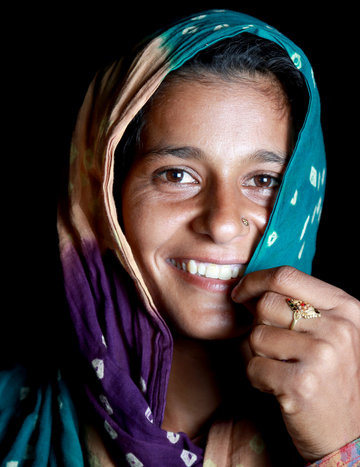 Project Disha
Project Disha gave Chhoti Si Asha an opportunity to reach out to 100 plus women and organize them into craft clusters depending on their skill and knowledge. 
The project aims at promoting work opportunities for the rural women artisans and the migrant rural artisans living in Chandigarh. Chhoti Si Asha is now doing so by continuous/innovative training, design development and providing a marketing outreach – online and via exhibitions. 
The economic empowerment of the women shall also be supported by "Hamara bank" – an initiative to support exigencies for our artisan women groups.
With this project, we also emphasized on the importance of Digital Marketing, running numerous campaigns throughout the year, online sales & filmmaking. This has helped us reach a much wider audience who resonates with our humble brand. 
We continuously try to spread awareness towards sustainability, keeping the tradition of Indian craftsmanship alive and inspire the world with stories of women empowerment.
Most of these women are working from the comforts of their homes with full autonomy and control their working hours.
~एक सखी से जुड़ी दूसरी सखी और बन गया हमारा Project Sakhi~
Project Sakhi | Ongoing
Over 60 women artisans were actively involved as part of Project Sakhi. When Chhoti Si Asha received an order to make six thousand laptop sleeves, we discovered that the bag required extensive quilting which was difficult for the existing stitching team at CSA to finish and we realized that a lot of women in the community who lived around our artisans had expressed a desire to work with Chhoti Si Asha. 
Keeping in mind the above two gaps, Project Sakhi was then launched as part of which each older artisans of CSA would mentor one to five new women, teach and give the work of quilting to these "sakhis". For a majority of them, it was their first livelihood earnings!
We were elated to find that fifty four new women became part of the Chhoti Si Asha community and learnt the craft of quilting. 
The existing team that mentors "sakhis" learnt valuable lessons in mentoring, quality control, conflict resolution, leadership quality and above all they became the changemakers in their community.
We were also able to make a short-film about Project Sakhi where we could show our viewers how when larger corporations work with smaller enterprises, the impact goes a long way and makes a difference.
Click here to watch this empowering documentary : https://youtu.be/soWbsGg_1K4
COVID-19 Relief Fund for Daily Wage Workers of Chandigarh / Tricity | 2020-2021
Amid the rising number of Coronavirus cases around the world and in India, a lockdown was announced by the Indian government on 21st March 2020. The suspension of work left the entire worker force of the country in a very vulnerable situation, especially workers from the unorganized sector (daily wagers and migrant laborers), as they are the most neglected and ignored all the policies and relief measures taken by the authorities.

Realizing the gravity of the situation and the need to immediately support them and their families with food, Chhoti Si Asha along with Amy Singh stepped up to the crisis and initiated a campaign to reach out to the daily-wage community in the Tricity area.

We started an online campaign on "Our Democracy" website to raise funds and support the daily wagers of the city.

Menstrual Hygiene Project | 2019
Based on a survey that Chhoti Si Asha conducted, it was found that 42.8% of the adolescents were given prior knowledge in school, while 28.5% were informed by family and friends. Also, around 35.7% of them attained knowledge through advertisements and media. It was realized that a majority of them did not know about the biological aspect of menstruation.

A little over 35% had proper knowledge about the biological reason behind menstruation. Upon inquiry, it was concluded that most girls used pad while a fraction of them were intermittent between cloth and pads. It was confessed that their mothers usually used cloth
owing to convenience, mental bias towards pads, and cost-cutting benefits of cloth. However, they were ready to provide their children with pads.

Adolescents should have much enthusiasm in educating the masses about menstrual hygiene and were keen on learning its biological and especially physiological aspects.